The Company

DLO - Danilo Lucchi Overseas
DLO Import Export sas, is specialized , since 1988, in the aftermarket sector, concerning the production and the trade of genuine leather interiors, for cars of all the brands.
It is an international company, which has always been committed to the research and the sale of high quality automotive leather.

DLO offers to its customers a professional experience, from the consulting to the implementation, through the customization of new coatings for the upholstery of their vehicles.
The continuous research of new processes and high quality materials, genuine leather and technical fabrics for all the types of transportation,
has led DLO to the excellence in the national sector.
The artisanal activity, combined with new technologies, aims to maximize both the value of your vehicle and the pleasure of driving.
With the aim of offering an impeccable, rapid and personalized service, we are at your disposal for every request, from the single realization to the company fleets.
For over 30 years we are constantly looking to offer the best comfort on your way, and more.
We offer B2B and B2C services and we put our experience at the disposal of everyone's needs: car dealers, car rent, showrooms, upholsterers, companies and individuals.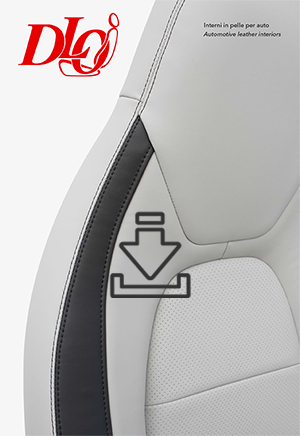 BROWSE THE BROCHURE